Volcano Town: The 1937-43 Eruptions at Rabaul
R. W. Johnson and N. A. Threlfall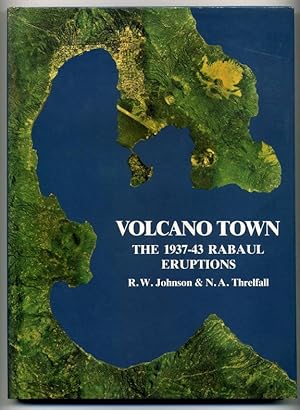 Title: Volcano Town: The 1937-43 Eruptions at …
Publisher: Robert Brown and Associates, Bathurst, N.S.W.
Publication Date: 1985
Binding: Hardback
A note from the publishers:
The town of Rabaul, Papua New Guinea,is built within an active volcanic caldera andis vulnerable to eruptions from the histori­cally active volcanoes that contribute to the superb scenery of Rabaul Harbour. A Vol­cano Alert declared in October, 1983, drew the attention of people in Rabaul and in thesurrounding area to the possibility of a vol­canic outbreak within weeks to months. This
warning led not only to considerable anxietywithin the community, but to emergencypreparations being made. The premonitory signs of an impending eruption declined af­ter April, 1984 and, as of October, 1985, thetown has returned to normal. But Rabaulremains volcanically vulnerable.This book is a narrative of the latest period of volcanic activity at Rabaul: the May 1937 eruptions at Vulcan and Tavurvur, when more than 500 people were killed, and the relatively minor 1941-43 volcanic activity at Tavurvur which overlapped with the pe­riod of Japanese war-time occupation. The authors tell how this volcanic activity
influ­enced decisions on the future of Rabaul as an administrative capital. More importantly, they illustrate the effects of the 1937-43 erup­tions on Rabaul and draw attention to the kind of volcanic activity that could again take place in Rabaul Harbour.